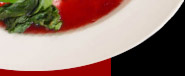 Top Five Things

to Never Do

at Your Wedding Reception

Never drink any alcohol without eating something first, even if it is just one drink while you are getting ready. If your wedding is at the same location as your reception, ask your caterer to bring you and your bridal party a platter of goodies to munch on while getting ready.

Never go under on your guest count thinking that those who have not RSVP are out of luck if they don't get to eat. If you find out that more guests are coming to your reception than you had planned, call your caterer and let them know - they will greatly appreciate it.

Never consider organizing your wedding reception. Let your caterer handle all the details for you so that you may enjoy your day.

Never be sparing with your menu selection. If your reception is around or during mealtime, it is important that you offer heavy hor d'oeuvres or a meal so that your guests do not go away feeling hungry.

Never lift a finger at your reception. Allow your caterer to do all the directing and cleaning up after guests!